Meet the Director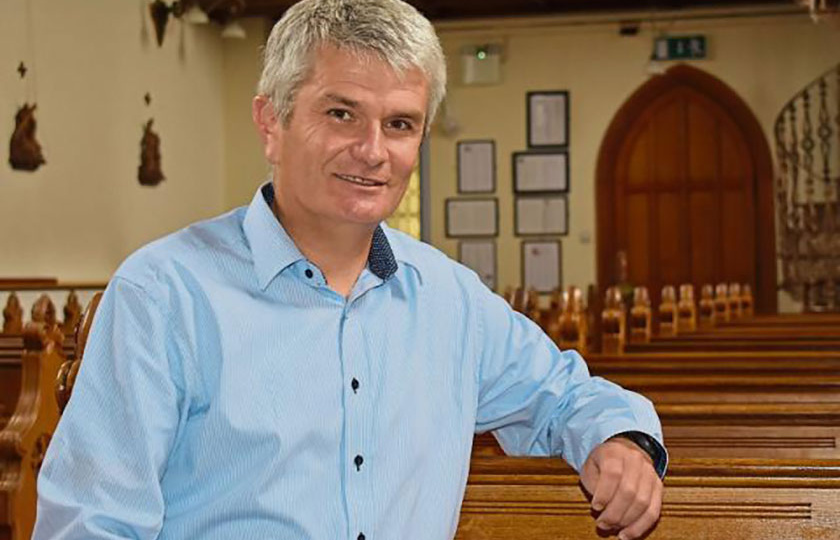 Éamonn joined Mary Immaculate College, Department of Theology & Religious Studies as Co-Ordinator of the NOSTRA programme in 2005. He has taught Christology and Sacramental Theology in Mary Immaculate College and has taught a variety of modules on the Nostra Programme. He is currently the Director of The Irish Institute for Pastoral Studies, based in the Thurles Campus of MIC, and is also Episcopal Vicar for Pastoral planning in his home diocese of Limerick.
He was Director of the Limerick Diocesan Synod which took place in April 2016 and has served in parish ministry, as Director of a Diocesan Pastoral Centre, as Director of Youth Ministry and as Vicar General of the Diocese of Limerick.
Éamonn is currently the convener of the Task Group for the Irish Synodal Pathway of the Irish Episcopal Conference.
Areas of Interest: Synodality; Ministry; Pastoral Theology; Parish Development and Renewal; Youth Ministry; Christology; The Theology of John Macquarrie; The Story of the Universe.  Adult Faith Formation and Religious Education.
Research Interests
Synods and synodality; pastoral development and renewal; the theology of Vatican II; ministry (lay and ordained); leadership in the church; the priesthood of the faithful, and the theology of John Macquarrie, particularly his Christology.
Contact
Rev. Dr Éamonn Fitzgibbon, Director, Irish Institute of Pastoral Studies
BA (NUI); BD (Maynooth); MA (UL) & D Min (Milltown, UCD.
Phone: +353 504 20590/ 87 6921191
Email: Eamonn.Fitzgibbon@mic.ul.ie
Location: P123
Publications
Books
Limerick Diocesan Synod 2016: A Camino of Hope in the Spirit of Truth, Eds. Éamonn Fitzgibbon and Karen Kiely (Dublin: Veritas, 2022).
Books - Contributing Chapters
Diocesan Priesthood, Éamonn Fitzgibbon in Duffy E. (ed), Parishes in Transition, Dublin: Columba, 2010.
Ministry in a Changing Context, Éamonn Fitzgibbon in Conway E. (ed), Priesthood Today: Ministry in a Changing Context, Dublin: Veritas, 2013.
The Diocesan Synod: Synodality in the Local Church, Éamonn Fitzgibbon in Conway E. (ed), Duffy E. (ed), McDaid M. (ed), The Synodal Pathway: When Rhetoric meets Reality, Dublin: Columba, 2022.
Articles in Journals
Clericalization of the Laity: A Prescient Warning of Pope Francis for the Catholic Church in Ireland, Irish Theological Quarterly, Vol. 85, Issue 1, (Feb. 2020), pp. 16–34.
Monograph of the International Theological Congress of the European Society for Catholic Theology (ESCT): Hope: Where does our Hope Lie?, 28 – 31 August 2019, Bratislava, Éamonn Fitzgibbon, The Synodal Way of Pope Francis: the Last Hope for a Church in Crisis.
A Theological Reflection on Pastoral Practice in this Time, The Furrow Vol. LXXI, No.7/8, July/August 2020.
Together on the Way, The Furrow, October 2017.
Theology in Pastoral Practice, The Furrow, December 2015 Vol.LXVI.
The Synod on the Family, The Furrow, September 2014.
Painted into a Corner – Priesthood in Ireland Today, The Furrow, Vol. LXII, (2011).
Sunday Liturgy, The Furrow, April 2003 Vol LIV No 4.
The Synod of Limerick, Intercom April 2016.
Parish Clustering, Intercom, March 2001.
Book Reviews
Able Lives by Fiona Murdoch, The Furrow, May 2004 Vol LV No 5.
Youth, Gospel, Liberation by Michael Warren, The Furrow, November 1999 Vol L No 11.
Homilies
Homilies for April, The Furrow, March 2005, Vol LVI No 5.
Homilies for January, The Furrow, December 2003, Vol LIV No 12.
Conference Papers
The Early Christian Community in Acts 2:44 – 45 as an Example of Fraternity for Today, Presented to the International Congress of the European Society for Catholic Theology, University of Strasbourg, France on 30 August – 2 September 2017.
Pastoral Areas - Presentation to Kildare and Leighlin Clergy Conference, 17th June 2014.
Pastoral Ministry In The Secular Priesthood - Painted into a Corner.
Tuam Clergy Diocesan In-Service Course, 8-11 October 2012.
The Role of the Diocesan Priest Today,  Kerry Clergy Study Day, 29 November 2012.
Parish Development and Renewal, Down and Connor, May 2012.
Parish Clustering, Presented at Down and Connor, March 2011.
Pastoral Ministry In The Secular Priesthood - Elphin Clergy Conference, 10th November 2009.
Ministry as Service, Bons Secours Hospital Trustees Facilitation and Presentation, 13 January 2008 and 4 September 2009.
Presentation to Episcopal Commission on Pastoral Planning on Pastoral Areas, 21st May 2009.
Identifying Needs – Listening in a Pastoral Planning Context, Killaloe Diocesan Clergy, 12 November 2006.
Meet the Director

Publications