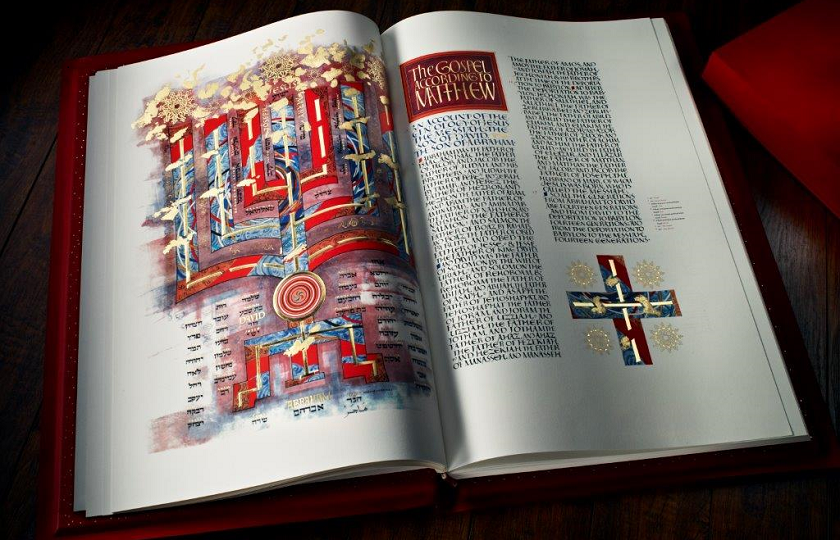 The Irish Institute for Pastoral Studies at Mary Immaculate College (MIC) is giving members of the public the opportunity to explore the artistic and spiritual beauty of The Saint John's Bible with a number of events taking place on 10, 11 and 12 March.
An open evening will take place at MIC Limerick on 10 March and& MIC Thurles on 12 March where Tim Ternes, Director of The Saint John's Bible at Saint John's University in Minnesota, will deliver a keynote on both dates. Tim, who worked closely with the artistic team in the creation of the Bible, will provide the public with a fascinating behind the scenes insight into this living document, which was commissioned in 1998 by Saint John's Abbey and University in Minnesota.
Also, on both dates, Susie Leiper, one of the artists that worked on the Bible will examine the Bible's intricate calligraphy while Dr Jonathan Burroughs, lecturer in Theology and Religious Studies at MIC will explore how the Bible has brought Jesus to life for a new millennium.
On 11 March, a day of immersion, retreat and recollection will take place at Glenstal Abbey where 30 participants will be given the opportunity to explore the Bible in depth as both a work of art and work of theology.
Described as "the American Book of Kells", this seven-volume work is the first complete handwritten Bible commissioned by a Benedictine monastery since the invention of the printing press. Four volumes are held by MIC with two volumes on permanent public display at MIC Limerick, while one volume is on display at MIC Thurles. The College has also recently received a fifth volume entitled 'Prophets'.
Speaking ahead of the three-day event, Rev. Dr Éamonn Fitzgibbon, Director of the Irish Institute for Pastoral Studies and lecturer in Theology and Religious Studies at MIC, said, "Mary Immaculate College has a wonderful resource in The St John's Bible Heritage Edition – the St John's Bible Programme is a tremendous initiative, it combines art, theology, scripture and prayer. MIC is the only site in Ireland housing the acclaimed Heritage Edition. In many ways, even though the Bibles are on public display, it is something of a well-kept secret. This three-day event will open up the treasure to staff, students and the general public."
Staff and students at both MIC Limerick and MIC Thurles will also be given the opportunity to partake in a one-hour workshop on 10 and 12 March where they will learn how to handle the volumes and speak about The Saint John's Bible.